Products

We manufacture & repair broken or ripped canvas, fabric & vinyl products:
Tear-Aid Do it Yourself Patching
Description
FABRIC REPAIR WITH A PEEL AND STICK SEE-THRU PATCH


HOLDS AIR under pressure even when stretched
HOLDS WATER under pressure even when stretched
SEE-THRU PATCH works with all colors
INSTANT ADHESION with no sewing
CONFORMS to irregular surfaces
WON'T TURN GUMMY in high heat
UV RESISTANT inhibits yellowing for years
CUTS EASILY to any size with scissors
NO GLUE TUBES no mess liquid adhesives to apply
ELASTIC PATCH that won't pull off when stretched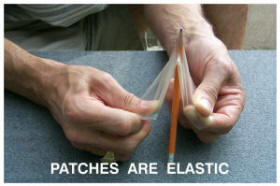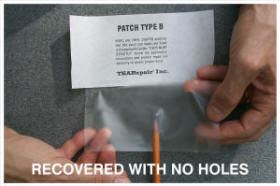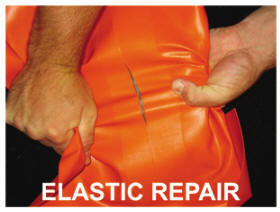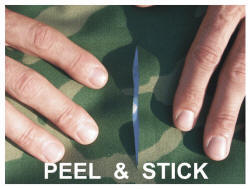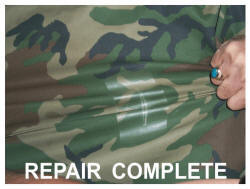 TEAR-AID
®
Repair Patches fix many different products in almost ALL industries: Fishing, Hunting, Camping, RV, Sporting Goods, Inflatables, Wind and Kite Surfing, Kayaks, Marine, Boating, Seat, Military, Medical, Awnings, Tents, Pool Supply, Waterparks, Surf and Dive Shops, Police and Fire, Beach Resorts, Hardware Stores, and Auto Parts Stores.
Each TEAR-AID
®
repair patch is made from an exceptionally tough, matte finish, abrasion resistant, elastomer that resists puncture and tearing. It is combined with an aggressive adhesive formulated for high bond strength to a variety of surfaces such as canvas, leather, rubber, nylon, most plastics, paints, aluminum, stainless steel, fiberglass, polyurethane, polyethylene, polypropylene, vinyl and vinyl coated. TEAR-AID
®
Type A and TEAR-AID
®
Type B provide a simple and easy method of patching holes and tears, as well as an excellent protective film solution.
Inflatables Video
http://www.tear-aid.com/Tear-AidVideoInflatables.htm
Picture Slide Video
http://www.tear-aid.com/Tear-AidVideoPictureSlide.htm
Camping & Outdoors Video
http://www.tear-aid.com/Tear-AidVideoCamping&Outdoors.htm
Hunting Video
http://www.tear-aid.com/Tear-AidVideoHunting.htm
Winter Sports Video
http://www.tear-aid.com/Tear-AidVideoWinterSports.htm